White Papers/Case Studies
Application of Ozone for Enhancing the Microbiological Safety and Quality of Foods: A Review
Jin-Gab Kim, Ahmed E. Yousef, and Sandhya Dave, February 1999
Water Relations in Harvested Fresh Produce
The Postharvest Education Foundation (PEF), May 2015
Microflora Changes in Misted and Nonmisted Broccoli at Refrigerated Storage Temperatures
Faridah Mohd-Som, L. Art Spomer, Scott E. Martin and Shelly J. Schmidt
Misting Affects Market Quality and Enzyme Activity of Broccoli During Retail Storage
M.M. Barth, A.K. Perry, S.J. Schmidt, and B.P. Klein
Misting Effects on Ascorbic Acid Retention in Broccoli During Cabinet Display
M.M. Barth, A.K. Perry, S.J. Schmidt, and B.P. Klein
Effect of Relative Humidity on the Ripening Behaviour and Quality of Ethylene Treated Banana Fruit
Saeed Ahmad, Zia Ahmad Chatha, Muhammad Akram Nasir, Abdul Aziz and Malik Mohson
Comparative Assessment of Chlorine, Heat, Ozone, and UV Light for Killing Legionella pneumophila within a Model Plumbing System
Paul Muraca, Janet E. Stout, and Victor L. Yu
Meat Processing Case Study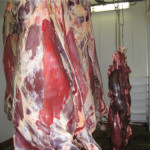 The problem: Costly shrink was occurring during the 24 hour primary chilling process, where fresh carcasses are spaced in a room designed to slowly reduce the core temperature. Corrigan was asked to maintain carcass weight while eliminating the moisture that had previously collected on walls and dripped from the cooler ceiling.
High relative humidity levels are needed to help with carcass weight loss and ensure quality chilling time.
The solution: A dry fog with droplets that are so small they bounce off surfaces and are quickly absorbed in the atmosphere raising relative humidity to the 90% RH set-point.
The result: The VaporDry™ warehouse humidity system reduced the carcass shrink from 3.0% to 1.5%. That's a savings of $40.50 per hide on a 900 pound beef carcass valued at $3.00 per pound. The system paid for itself in two weeks! And no moisture collected on the ceilings or walls.
Open Seafood Case Issues and Solution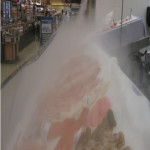 The design of open seafood cases is appealing to the shopper. Sleek, minimalistic and definitely open.
Trying to keep seafood presentable and fresh has always been a challenge. The drying effects of refrigeration on seafood is well known. Open seafood cases which readily allow water to evaporate into the drier surrounding air, have only compounded this difficult issue.
Fortunately, Corrigan Corporation has an open case solution that promotes longer shelf-life, reduces shrink and can even eliminate the need for ice.
Our nozzle design emits a controlled micron-sized water vapor resulting in a gently rolling fog. We strategically place the nozzle above the open case allowing the fog to cascade downward onto the seafood display area. Lastly, we control the system inlet air and water pressures as well as the on/off time to maintain the required relative humidity to maximize your seafood shelf-life.
The result is an esthetically pleasing open seafood case with a fog cover providing an overall fresher display.
Our customers' report: it's a real show stopper. Shoppers see the cloud from the other end of the store and are instantly attracted to the display.