Food Service Water Filtration
Proper water quality is just as important as the selection of coffee beans used to make a cup of coffee or the fresh produce used in a dinner salad. Whether you need a water softener or an advanced water filtration system for an espresso machine, Corrigan will customize a solution that is right for you.
Commercial Water Filtration
Corrigan carries a variety of commercial water filtration systems designed to solve even the toughest water problems for industries such as:
PumpPak Filtration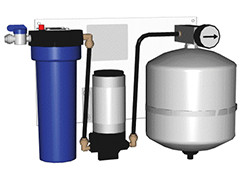 Standard one-micron filter removes sediment that would otherwise clog nozzles and solenoids.